Everyone dreams of a luxurious white wedding. White, after all, isn't just traditional. Rather, white symbolizes purity, the beginning of new era, and to a large extent, elegance and refinement.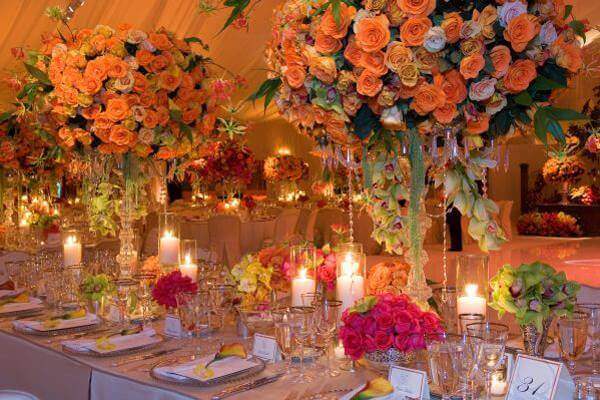 However, while white and ivory will likely always be the preferred color of choice for dresses, bridesmaids outfits, and ring pillows, white doesn't have to rule over your entire wedding day in regard to your overall wedding décor.

Using White Alongside Different Combinations of Colors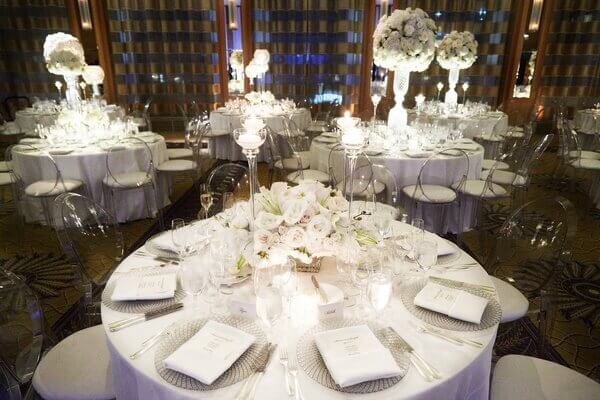 While white and ivory shades are indisputably beautiful, modern wedding planners often find that the most characteristic and memorable wedding color themes are those which incorporate seasonal colors and flavors also.
A winter wedding, for example, can be brought alive by color schemes which incorporate blues, silvers, and even red and aqua color variations. In like regard, a beautiful springtime wedding can be made truly spectacular by using white alongside different shades of black and pale green. A summer wedding on the other hand can be exemplified by using white as a base color, complemented by deeper shades of peach, light green, and gold.
Choosing the Right Color Combination for your Wedding Venue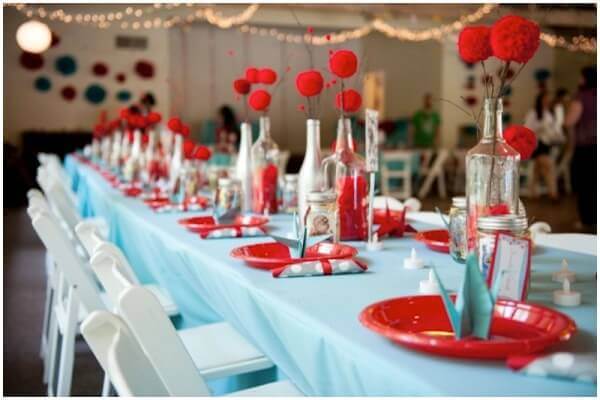 Of course, choosing a color scheme and theme for a wedding needs to go hand in hand with how you choose your wedding event venue. In the case of peach, for instance, such shades are ideal for summer weddings which will take place for the most part outdoors. However, if you plan on holding your summer wedding reception indoors, peach should perhaps bet be replaced by royal blues and yellows. This is because with peach being a very light and subtle color, it simply won't showcase as much of its charm in dark, less naturally lit areas.
Dispensing with White Entirely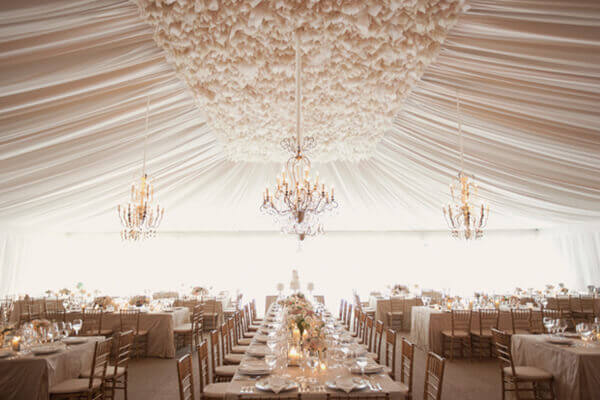 When planning a wedding, it's easy to feel obliged to a certain degree, to keep things as traditional as possible. This and feel that any deviation away from a traditional wedding color scheme might simply be too risky. No one, after all, wants their wedding remembered for all the wrong reasons. That said, sometimes it can be a good idea to completely dispense with white as even a base color for a wedding.
Are you looking for an ultra-modern yet also distinctly elegant wedding theme? If so, combinations of colors such as tangerine, orange and yellow can add a beautiful and ultimately distinct atmosphere to almost any wedding event venue. Moreover, when opting for a none-white wedding, white doesn't have to be completely avoided. Rather, white itself can be used as a complementary but non-defining wedding color when used as a base color for things like table decorations and, of course, the wedding centerpiece which is the bride's wedding dress.
How to Choose the Right Color Theme for your Wedding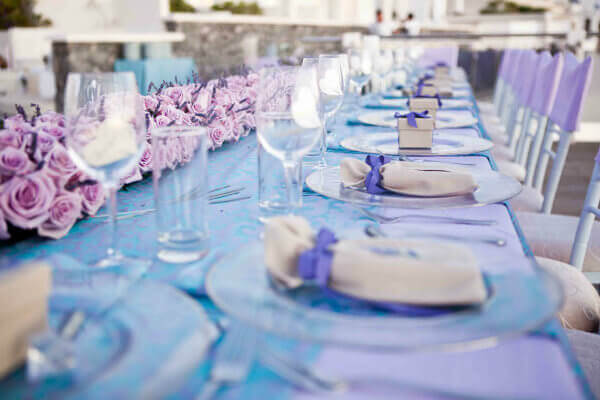 Are you struggling to choose the right color scheme for your wedding? If so, it can help (and perhaps should even be an overall rule) to color coordinate your wedding around both the time of year and the existing ambiance of your wedding event venue.
Wherever you plan to hold your wedding, the lighting, architecture and existing décor of your reception venue will always dictate the success or not of any color scheme you use. This being the case, always scout out your venue thoroughly if you have a particular color scheme already in mind. Alternatively, if you are choosing your venue first and your color scheme second, consider enlisting the help of a professional designer or wedding planner who will be able to help you choose the perfect theme for your upcoming big day.