Welcome to
The Best Banquet Hall In Toronto
The National Event Venue in Toronto is one of Canada's most in-demand wedding venues.
We don't just make banquet halls available for hire. Instead, we strive to make weddings and other celebrations as unique and as memorable as possible, by providing a truly magnificent setting for absolutely every kind of special occasion.
We provide a fully customizable event center which features a theater-like interior and which can easily accommodate up to 450 wedding or event guests. Much more importantly, our events center is equipped with state of the art light and sound systems. This being the case, we can help you host wedding and other special events which feature show-stopping music and all kinds of live entertainment.
National Event Venue is considered to be one of the best banquet halls for wedding celebrations in all of GTA.
Rely on professionals – spend a perfect wedding banquet in National Event Venue and appreciate our advantages.
Our Luxurious interior is a spacious theatre-like hall with amphitheater and a capacity of up to 450 guests. We feature state of the art light and sound systems, great entertainment. Our staff is helpful and friendly and our cuisine is excellent. Our two-tiered stage provides the Bride and Groom an enchanting entrance.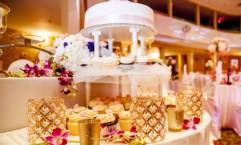 A perfect marriage is made in heaven
WEDDING RECEPTION
When hiring out one of The National Event Venue's banquet halls, we treat you to a truly grandiose setting which can accommodate up to 500 friends and family members.
Our elevated stage area is perfect for reception entertainers and performers. What is more, our tiered hall allows brides and grooms to benefit from a truly enchanting overall event experience.
READ MORE >>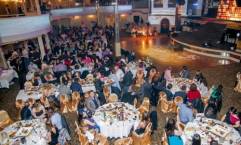 We promise to make it a fun 
CORPORATE EVENT
Are you planning on hosting a trade show or corporate gala event? If so, The National Event Venue can help. We help you add distinction and sophistication to conferences, exhibitions, and corporate events, by pairing our luxurious event venue setting with expert entertainment planning and first-class catering.
READ MORE >>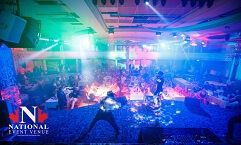 We will create a good feelings

ENGAGEMENT EVENTS
Prior to saying "I do." you need to announce your wedding to the world. Thankfully, as well as being one of Toronto's leading wedding venues, our banquet halls can also be hired for engagement celebrations, bat mitzvahs, family reunions, and a wide range of other family celebrations.
READ MORE >>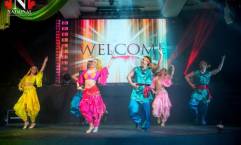 Stunning performances
LIVE SHOW
As a leading event center, we regularly host live performances from a variety of national and international entertainers. Our state of the art lighting, sound, and stage setup, allows us to host performances from everyone from world leading acrobatic performers to leading international bands, comedians, and public speakers.
READ MORE >>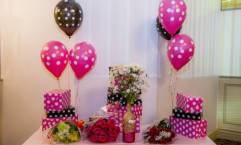 Let us take care of you.
CATERING
At The National Event Venue, we don't just make exceptional banquet halls for hire. Instead, we also specialize in the provision of world-class catering for wedding events, corporate events, and special entertainment evenings.
We add real value to event venue experiences by taking the hassle out of food preparation. Much more importantly, our Chefs and can accommodate a wide variety of specialized dietary requirements. – All you need to do is tell us how we can best serve you.
READ MORE >>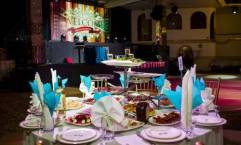 We will create a unique atmosphere

SPECIAL EVENTS
Extraordinary events don't just happen. Hosting a special event requires weeks and sometimes months of planning. Thankfully, whatever kind of event you plan on hosting, we can help make planning altogether easy. We help you make lasting impressions on your guests by helping organize catering, entertainment, and custom decoration of our banquet halls, ready for any and all kinds of special events.
READ MORE >>
National is an amazing place to have a great time.. The music is wonderful and the service is outstanding!! If you have an upcoming party and are looking for a great venue.. NATIONAL is the place!!!
– Irina Saltanov
We will create a unique atmosphere
REDEFINING EVENT VENUE CATERING
Any special day needs to be complemented by specialty catering. This is why at The National Event Venue, we provide first-class gastronomic experiences which won't fail to impress even the most discerning of event attendees.
When planning your event, our professional Chefs and kitchen staff will allow you to choose from everything from European to traditional Middle Eastern cuisine.
We don't limit your culinary choices. Instead, we invite you to tell us what the gastronomic theme of your event will be. We will then work with you to create a menu which can include any number of leading world flavors and specialty dishes. This way, we can ensure that you and your guests will have as unique as possible a fine dining experience.
CREATIVE & ELEGANT EVENT ATMOSPHERE
At The National Event Venue, we help people stage traditional, fanciful, offbeat, and alternative weddings, in one of Toronto's most beautiful banquet hall settings.
We provide you with high-capacity seating and as much dancefloor space as you and your guests need to really celebrate. What's more, because our banquet halls are so luxuriously appointed, we really can make you feel like the most special person in the world when it comes to your wedding, birthday, graduation, or baby shower.
Planning an event other than a wedding? If so, this isn't a problem. You can rent our banquet venue for:
Birthday celebrations
Engagement and wedding parties
Baby showers
Sweet 16 events
Business gatherings
Corporate parties
Meetings, seminars, training events, etc.
Team building events
Product launches
FULL-SERVICE EVENT CATERING
As well as catering for weddings, birthdays and corporate events held on-site at The national Even Venue, we also offer comprehensive off-site catering services.
Hosting an event at home? If so, we can prepare and deliver world-class food to your location in order to make your event just as well serviced from a culinary perspective, as it would be if held here with us. In fact, on request, we can provide everything from professional wait staff and bartenders to fine china, cutlery hire, and even event furniture hire.
What menu to choose for my guests?
Choosing the right menu for your event is essential. The only problem is that if you are not accustomed to wedding and/or events planning, it can be difficult to know where to start when it comes to planning and delivering first-class catering.
Thankfully, we can help you choose from a wide variety of buffet and table service catering options. We help you discover what snacks and horderves/appetizers might be best suited to your event. We then help you plan food service schedules which will be expertly synchronized to the natural flow of your event while being serviced by our very own professional wait staff and bartenders.
National has two halls
At The National Event Venue, we provide event planners with a choice of two distinctly different banquet halls.
Seating 450, our European Hall is a tiered event venue with a balcony and large dance floor area. This makes our European Hall perfect for most family orientated celebrations, as well as events which will include live entertainment and audiovisual presentations.
With a special emphasis on state-of-the-art audiovisual entertainment, our European Hall is equipped with a 20ft HD LED presentation screen. Meanwhile, our unique 360-degree projection system can be used to visually customize the entirety of our Hall interior.
WHY CHOOSE THE NATIONAL EVENT VENUE?
At The National Event Venue, we strive to anticipate and cater in advance for even the most niche event requirements.
Great sound and acoustics which is reached due to the State-of-the-Art Audio visual technology.
Art lightning with the possibility to show any panoramic scenery.
Professional kitchen facilities allowing to prepare delicious food of various cuisines (the full list you may check on our wedding services page).
Convenient location – in the center of GTA.
Entertaining program.
Professional photography.
Décor service.
Exclusive wedding offers.
Limo rental service.
Organization of special events.
What is our venue famous for?
Our professional and trained team members will find an approach to each of the guests and will make them feel comfortable in National Event Venue.
With our themed parties and special atmosphere, all guests feel themselves relaxed and happy. We guarantee positive memories and great photos of your special events which you will memorize forever. Rent a banquet hall and come to visit us to see everything yourself. It is our pleasure to organize a banquet on your special event.
Our prices vary depending on the amount of guests, services you will choose and the menu you will order. All the details are discussed on the appointment for you to make sure you will fit the budget and everything will be organized in accordance with your requirements.
Wait no further – contact us in any convenient way for you and celebrate your special occasion in our luxury banquet hall in Toronto.
Are you looking for a superb event venue? If so, don't wait. Inquire about booking one of our banquet halls today. Once you have secured a date, we will then help you plan everything from your event itself to add on extras such as limo hire and professional photographers who can help you document your big day.
At The National Event Venue, we provide people with a fresh approach to wedding and event planning. This being the case, make sure to reach out to us today in order to secure a truly magnificent setting for your next special event.
Online Booking
info@nationaleventvenue.com
General Inquiries
1000 Finch Ave W
North York, Toronto
ON M3J 2V5
Canada
info@nationaleventvenue.com