National Event Venue is considered to be one of the best banquet halls for wedding celebrations in all of GTA.
Rely on professionals – spend a perfect wedding banquet in National Event Venue and appreciate our advantages.
Our Luxurious interior is a spacious theatre-like hall with amphitheater and a capacity of up to 450 guests. We feature state of the art light and sound systems, great entertainment. Our staff is helpful and friendly and our cuisine is excellent. Our two-tiered stage provides the Bride and Groom an enchanting entrance.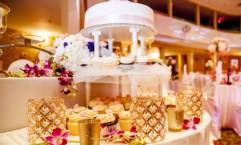 A perfect marriage is made in heaven
WEDDING RECEPTION
Our grandiose banquet hall can support up to 500 of your friends and guest, and our two-tiered hall provides the Bride and Groom an enchanting entrance from our elevated event stage.
READ MORE >>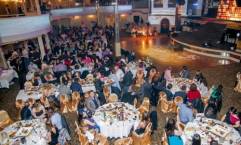 We promise to make it a fun 
CORPORATE EVENT
National Event Venue is pleased to offer our space for any type of corporate event you may require – fundraiser, corporate lunch or dinner, meeting, team building, conferences, cocktail receptions, seminars, award galas, charities and many more.
READ MORE >>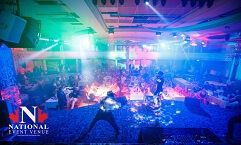 We will create a good feelings

ENGAGEMENT EVENTS
Do you want your joyful event to be remembered for a lot of unforgettable experiences and deep emotions? Then entrust your holiday to us, to celebrate it rather than worry about it!
READ MORE >>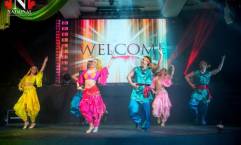 Stunning performances
LIVE SHOW
From local singers to live dancers and live bands, as well as world-class aerial acrobatics and fire breathers, our live entertainment is designed to delight and amaze you.
READ MORE >>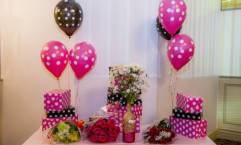 Let us take care of you.
CATERING
We will come, set everything up and take it away after you are done. If you have ever celebrated at National Event Venue, you know we give you a lot of food for your buck. We keep the same model for our catering as well.
READ MORE >>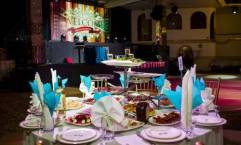 We will create a unique atmosphere

SPECIAL EVENTS
National Event Venue has considerable experience in orchestrating celebrations of a variety of themes and scale, and as always our events are special, the kind that leave guests with contentment and positive memories that last for the longest time.
READ MORE >>
National is an amazing place to have a great time.. The music is wonderful and the service is outstanding!! If you have an upcoming party and are looking for a great venue.. NATIONAL is the place!!!
– Irina Saltanov
We will create a unique atmosphere
Our Kitchen
Our team of Chefs and kitchen staff will create the menu you desire from around the world. We don't limit ourselves to our large selection of Western and Ethnic cuisine, we can also create any dish desired that is not on our published menu.
We provide our guests with a completely unique experience, carefully customized to fit your particular celebratory occasion. Whether it is a corporate event, engagement party, wedding celebration, birthday party, or any other type of celebration – count on us to surpass your expectations. Our dedicated staff is here to help you plan out the details of your experience with us.
The most elegant banquet hall
The banquet hall is one of the first things a host should think over organizing some special event. And it's not about the place availability on the particular date – it's about a venue to remember for the whole life. When something special happens in your life, it should be celebrated in one of the most beautiful banquet halls in Toronto. National Event Venue team will be your personal guide from the moment you fill in the order form till the last guest leaves from the party.
You can rent our banquet venue for:
Birthday celebrations
Engagement and wedding parties
Baby showers
Sweet 16 events
Business gatherings
Corporate parties
Meetings, seminars, trainings, etc.
Team building events
Product launches and may others.
Our Catering
Should you be planning a large party and want us to prepare the food for you, we can make it available for you for pick-up or we can deliver it to your home, or any location of your choice.
We also feature full-service catering, which can include wait staff, furniture, fully equipped bar with bartenders, china and cutlery. We cater within the GTA and also will drive to you in your cottage country.
What menu to choose for my guests?
No matter whether you have vast experience in organizing of special events, or do this for the first time, you will be worried about the menu. What snacks to order, how many second dishes to include into the menu, what beverages should be served to satisfy the tastes of all guests, and so on? This list can be continued forever until you ask professionals to help you.
By celebrating your special occasion in one of our banquet halls, you won't be required to look for additional catering services – our chefs will follow all your needs. Even if the required meal is not listed in our menu, we will prepare it for you.
You may choose any of our ready menus, or we will help you to create a special list of snacks and main dishes in accordance with your preferences – from vegetarian menu and Russian food to exotic Asian cuisine.
National has two halls
The European Hall is a beautiful 450-person amphitheatre with a second level balcony, a large dance floor, and a gorgeous performance stage from which the bride and/or groom can make a surprise appearance into the crowd. This Hall comes equipped with a State-of-the-Art Audio visual technology, 20-ft High Definition LED Screen, and a 360o projection mapping technology capable of customizing the interior of the Hall to any panoramic scenery of your liking or imaginary world of your choosing.
The middle-Eastern Hall is a 120 person for smaller more intimate events. As the name implies it is designed in a middle-Eastern fairy-tale like décor. This hall is also equipped with state-of-the-art audio-visual technology.
Please visit our Services page and let's get your journey started. It is our pleasure to be at your service!
Our Pleasant Bonuses
Great sound and acoustics which is reached due to the State-of-the-Art Audio visual technology.
Art lightning with the possibility to show any panoramic scenery.
Professional kitchen facilities allowing to prepare delicious food of various cuisines (the full list you may check on our wedding services page).
Convenient location – in the center of GTA.
Entertaining program.
Professional photography.
Décor service.
Exclusive wedding offers.
Limo rental service.
Organization of special events.
What is our venue famous for?
Our professional and trained team members will find an approach to each of the guests and will make them feel comfortable in National Event Venue.
With our themed parties and special atmosphere, all guests feel themselves relaxed and happy. We guarantee positive memories and great photos of your special events which you will memorize forever. Rent a banquet hall and come to visit us to see everything yourself. It is our pleasure to organize a banquet on your special event.
Our prices vary depending on the amount of guests, services you will choose and the menu you will order. All the details are discussed on the appointment for you to make sure you will fit the budget and everything will be organized in accordance with your requirements.
Wait no further – contact us in any convenient way for you and celebrate your special occasion in our luxury banquet hall in Toronto.
Online Booking
info@nationaleventvenue.com
General Inquiries
1000 Finch Ave W
North York, Toronto
ON M3J 2V5
Canada
info@nationaleventvenue.com