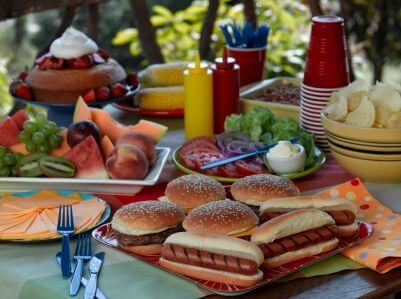 Companies, large and small organize parties to have a good time with their employees on different occasions, whether they are holydays or company's events. Some may do the standard office party with food, drinks and music. But if you want to make your event memorable and are searching for corporate event ideas, look over our suggestions for themes, favors and decorating to come up with a creative concept for a company party your employees would love to attend.
Company Picnic
Company picnic is one of the most popular ideas for corporate events as it makes the occasion more casual, and arranging some outdoor activities you can strengthen the teamwork among your employees.
Consider city parks when choosing a location for your corporate picnic party because renting such venue, your guests would enjoy all the activities at the location you choose, like golf, horse riding, swimming, etc.
Food options are endless here: hot dogs, burgers, stuffed Italian bread, grilled salmon, chicken and/or ribs, Greek salad, pasta salad, chips, dips, foot long sandwiches or pizza.
Get a cooler for you beverages and fill them with juice, lemonade, soda and water.or a successful picnic you need also to provide entertainment for your colleagues. Badminton and volleyball sets are classic and are always perfect for outdoor activity. For those who want to be creative, choose life sized jenga or yard twister. Prepare prizes for winners such as movie tickets, gift certificates, amusement park tickets, grill accessory kits.
Masquerade Ball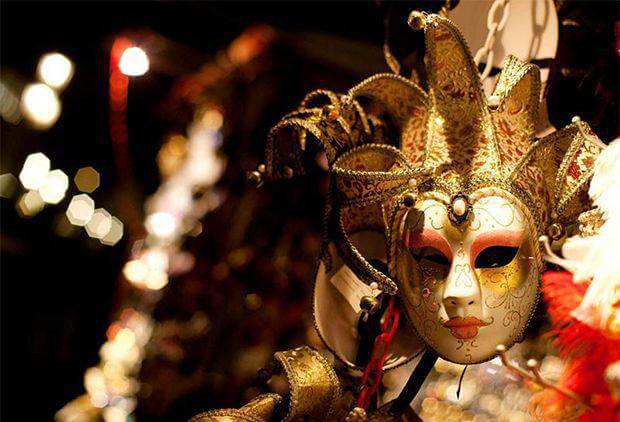 Masquerade is one of the most popular themes for all types of corporate events. Start with special and creative invitations in the shape of feather-trimmed black masks. Ask your guests to wear their most elegant get-ups and bring masks. Or you can provide each guest with a mask when they arrive. If you want to arrange a costume parade or a contest, include this info to invitations and don't forget to mention the prizes for bringing competitiveness and creativity.
Pick up a color theme (e.g. black & white, black & gold, all black or all white, etc.). Make the party banquet hall look majestic with elegant lightening and royal drapes. Put fresh cut flowers and ostrich feathered centerpieces on the tables to make the place look more elegant.
Since your guests will be wearing masks, it would be better to serve bite-sized food for their convenience. So choose 3-4 savory types of canapés: smoked salmon blinis with crème fraiche, teriyaki meatballs, and Italian breadsticks. 2-3 of sweet ones: chocolate fountain with a selection of fruits, cheesecake bites, themed cupcakes or cake pops, mini caramel apples or cinnamon apple rings. And make sure you have at least 2 vegetarian options: roasted cherry tomato and basil bruschetta, caprese salad sticks, a tray with as assortment of cheeses, crackers, nuts and fruits.
Complete the mood with jazz band or classical string quartet playing in the background.
Cruise Ship Event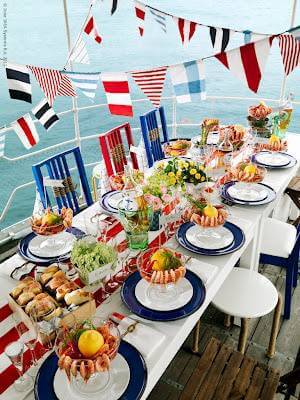 Cruise ships are good for all types of corporate events and are considered to be cost-effective venues compared to traditional land-based.
Set up a cruise bar with champagne, wine, beer, martini, margarita and cocktails that are
commonly ordered on cruises: pina coladas and strawberry daiquiris with classic tropical umbrellas. Include to the menu bar one special cocktail named after your company.
Offer such appetizers as parmesan tortellini bites, crab strudel steamed fish, potato bites, bacon stuffed avocados, crispy baked chicken wings, grilled shrimp, veggie and chicken kabobs, watermelon, feta, and mint bites. Serve a variety of mini desserts instead of a cake for every guest to choose whatever he\she likes: cupcakes, macarons, tartlets, cake pops, jello shots, ice cream, fruit cups, etc.
Hire a DJ to play near the bar. Photo booth would be a great favor for you cruise party too. You can also have cruise casino with blackjack and roulette tables with fake money with your company's logo on the bills.
Thank your co workers for coming by sending them home with thoughtful little gifts that show your appreciation. For example, package custom sweets in personalized bags.
Grande Casino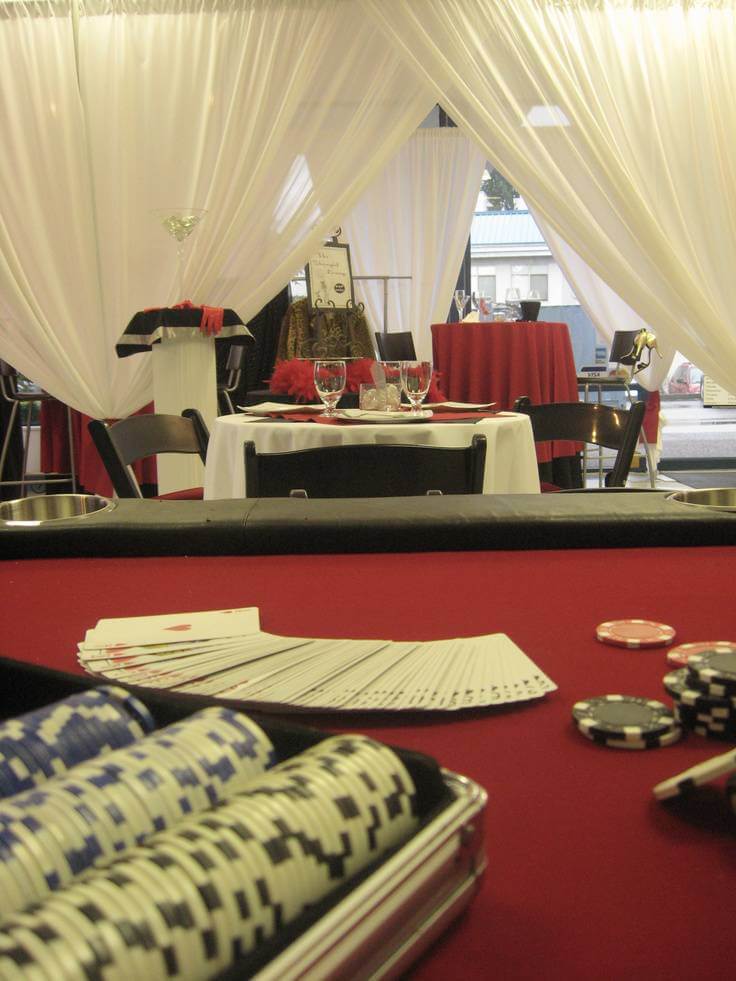 Casino night is an exceptional concept for providing quality entertainment for a corporate event for both large and small groups. There are a lot of companies that provide Vegas like gambling experience without losing real money with all the necessary equipment and professional staff. You can rent Poker, Blackjack or Craps tables, as well as Roulette wheels. Offer your colleagues a true casino experience.
Provide champagne reception for your guests at the beginning of your event. Have a buffet table with a variety of appetizers, such as mascarpone tarts, mozzarella and basil skewers, tempura vegetables, vegetable tortillas; assortment of sandwiches and salad buffet.
Set up cocktail bar offering such popular cocktails as Mojito, Bloody Mary, Seven & Seven, etc., and other drinks like Martini, beer, tequila.
Prepare prizes for your guests for winning at gambling tables. Such prizes may not bring the same excitement as money, but will show your appreciation: gift certificates, gift baskets, extra vacation day, customized or personalized sweets.
In addition to this, such companies also provide DJ's to set the mood for your party.
Futuristic Theme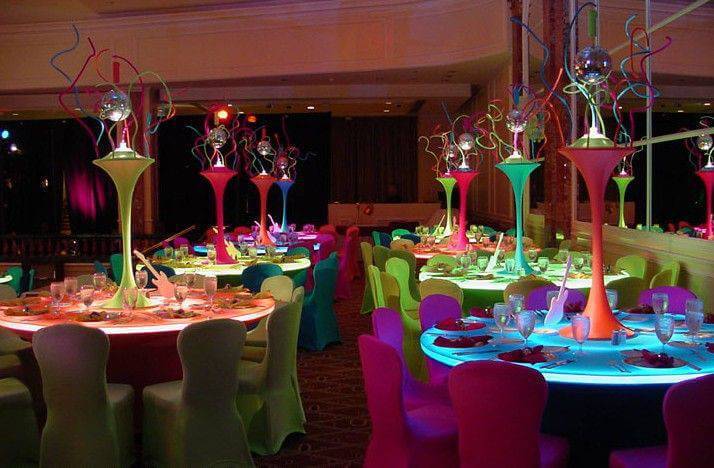 Throw a cosmic party for your employees to remember. Ask your guests to wear black at the party and prepare glowing accessories for them.
The key to transforming an average banquet hall into an ultra-fantastic venue is lighting and special effects. Light up the party place with LED and pulsating lights hanging them around. Divide your party place into several sections using different colors (e.g. blue, green, pink, yellow and white) using neon color balloons, streamers, tableware and centerpieces for each section.
Planning a menu for your party opt on international cuisine following futuristic presentation. Have a buffet of regular finger foods and ones with neon food coloring creating a futuristic themed environment at your dinner table. Serve cupcakes with colored icing. Glow in the dark gin and tonic jello will sure be a hit at your futuristic themed event.
Surprise your guests with fancy cocktail bar putting LED lights in the base of an ice bucket. Serve drinks with blue curacao and green lime juice which glow under UV-light. Provide non-alcoholic option for your guests serving fruit juices with extravagant straws and bright-colored jello shots
A good DJ is a must for futuristic party. Make a good selection of heavy and slow electronic music.
Christmas Corporate Event Ideas
Silver & Gold Christmas Party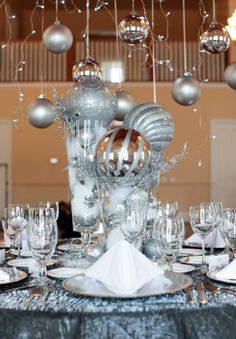 Throw an elegant Christmas party for your employees. Incorporate glittery metallic colors into every aspect of your event creating a majestic atmosphere. Send out sophisticated invitations with information about a themed party and ask your guests to dress in the colors of your party.
Use luminous décor for the party: get stars on metallic ribbons and garlands to hang from the ceiling; it will add sparkle and glamour to your party together with soft white Christmas lights. Highlight the brightness of the season with silver and gold Christmas tree with pine cones painted in a gold metallic color.
Set a buffet with food on silver platters and cupcake stands; place candles in clear glass bowls with gold confetti inside. Serve finger foods and appetizers such as mini burger sliders, stuffed mushrooms, tartlets, potato salad bites, etc. Add some dishes to your holiday table to match the theme: cupcakes in glitter wrappers with snowflake toppers, sugar cookies, jelly beans and a cake with edible sprinkles.
Christmas Cocktail Party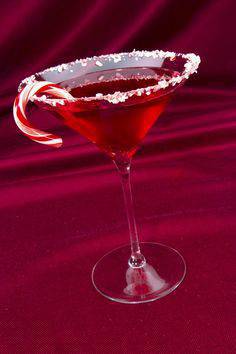 Cocktail party is a classy way to celebrate upcoming Christmas with your colleagues; simple to organize and perfect if you are considering hosting the event in your office.
Choose invitations in red and green traditional Christmas colors with cocktail glass pattern on them. Decorate the place in the same colors, add Christmas lights, hang a lavish wreath on the door and a couple of mistletoes on the ceiling.
Serve champagne punch, cranberry-spice cocktail, candy cane martinis and eggnog. Mulled wine would be a perfect choice for a cold weather. Serve some non-alcoholic beverages as well. For example, spiked cocoa, pomegranate or cranberry juice. Treat your guests with such finger foods as smoked salmon crisps, bruschetta, oysters, garlic bread fries, caprese appetizers, shrimp cocktail, deviled eggs, etc. Add cheesecake trifle, mini cupcakes, chocolate croissants or fruit tarts for a dessert.
Make a playlist with seasonal favorites to set up the party mood.
White Christmas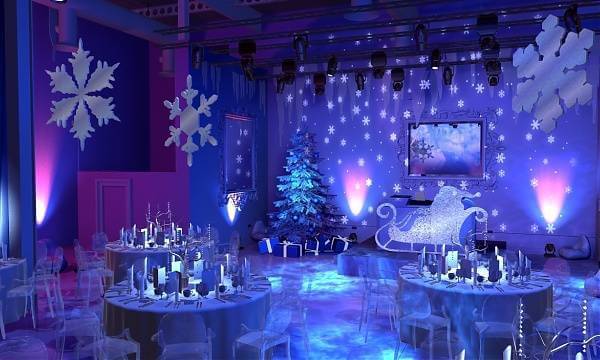 Bring the elegance to your holiday event hosting an all-white Christmas party for your co workers.
Hang white ornaments on the ceiling such as snowflakes and icicles, silver garlands. Place tables with white tablecloths around the banquet hall and curl them with white Christmas lights, put candles on each table. Hang the same lights on your white Christmas tree decorated with silver ornaments.
Choose the best from drinks for white Christmas party: white Russian, pina Colada, white hot chocolate, caramel martini along with classic champagne, and white wine. Serve drinks in glasses with sugar coated rims.
Your food menu may consist of roast turkey, white fish, fried chicken salad platters, sweet potato bites, mozzarella bites, veggie tarts, etc.
Set up the all-white dessert table. Offer such white Christmas-themed sweets as white chocolate cake pops, eggnog panna cotta, frosted cupcakes, coconut snowmen, sugar-dusted fruits, sugar cookies with white frosting toppings.
Ugly Christmas Sweater Party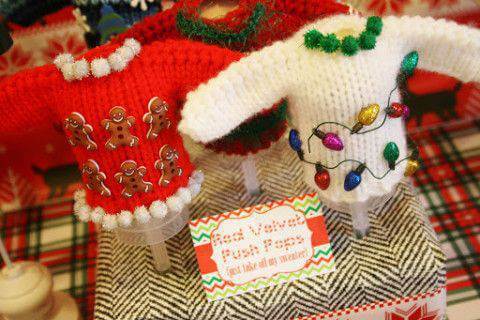 This is one of the funniest Christmas party themes. Incorporate the theme into invitations including all the party details. Ask your co workers to wear woolly sweaters everybody hides in their closets and wear them with a pride.
Decorate the party place with more ugly sweaters hanging them on a clothesline. Find some awkward Christmas family pics online and display them around the party area.
Consider such dishes as snowman pizza, mac and cheese muffins, turkey meatballs, chicken bites, mini french toasts bites, vegetable and cheese-grape tray, mini bacon-cheese cups. For the party dessert table choose some from these: peppermint ice cream, pretzel sticks, Santa strawberries, cookies spelled out "Joy". Serve sweater shaped cookies and gingerbread men in sweaters. Set up a s'mores bar with small candles. Build a "Christmas tree" out of green jello shots.
Holiday punch is a must for a winter party. Also offer such drinks for your employees as warm berry cider, spicy hot chocolate mocha, Grinch cocktails, cranberry margaritas, white Christmas Sangria or mulled wine.
Arrange the fashion show and vote for the ugliest sweater and award the prize.
Christmas Fiesta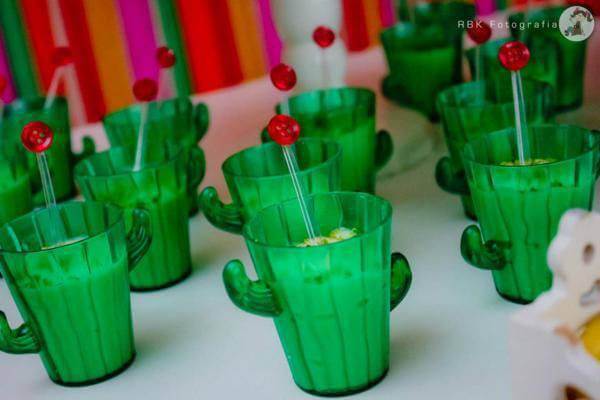 No matter how you're going to celebrate upcoming Christmas, in your office or renting a banquet hall, this one would be perfect for those who are looking for unusual corporate event ideas. Throw Fiesta office party as colorful and warm as Mexico.
Start your decorations with hanging "Feliz Navidad" banner to greet your guests. Combine traditional decorations as Christmas trees with Mexican inflatable cacti. Prepare maracas and sombreros for making fun pictures to remember your Christmas Fiesta party.
Set up a taco bar for your guests to choose the one they like out of several fillings: pork, chicken, radishes, cheese, sour cream, salsa, etc. Serve other traditional Mexican foods as chilis, tamales, nachos, salsa with tortilla chips, cheese stuffed jalapenos, chicken enchiladas. Paella station would be a great idea for Fiesta corporate party.
Serve Margaritas, holiday punch and Mexican sparkling cider called Sidra. Prepare Margarita glasses for all types of drinks.
If you're planning to rent a banquet hall for your party, hire a live mariachi band or a DJ. If not, make a playlist of popular Latin songs as well as traditional holiday tunes.
Jack Daniels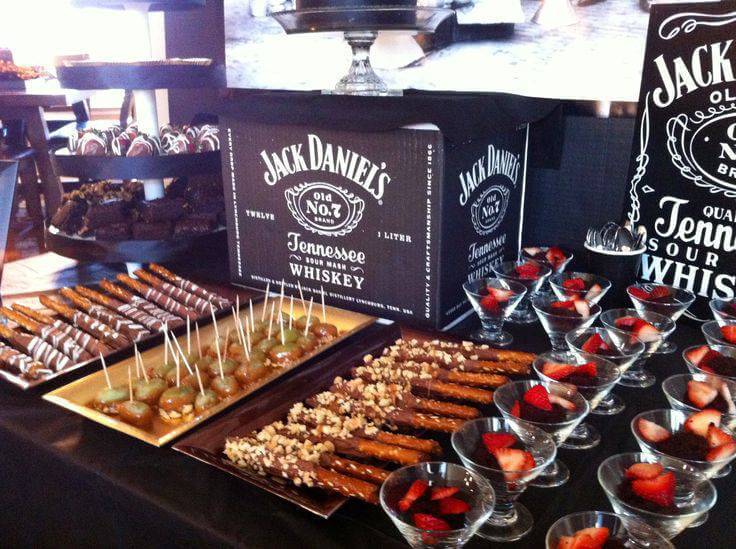 This one would certainly be a hit. Make personalized retro looking invitations for each of your employee. Design the venue with big bar signs, place wooden tables and use wine barrels as chairs. Load your party with fun details such as wooden plank pub sign with the name of your company on it, rusty bronze and black vintage posters, black and white helium balloons floating under the ceiling. Throw whiskey tasting at your party.
Serve espresso and dark chocolate which are the perfect complement to whiskey. Arrange canapé reception for your guests offering mini cheese scones, sandwiches of smoked salmon and cream cheese, curried chicken, mini muffin lasagnas, etc.
Write menu on the chalkboard in a vintage frame. Make a buffet dinner serving steaks, pork ribs, smoked chicken wings, pub mix, Gouda and bleu cheese plate. Offer such desserts as apple pie, chocolate soufflé and cheesecake.
Choose some other drinks we offer for your Jack Daniels party: apple cider whiskey cocktail, whiskey punch, Manhattan, etc.
Set up a photo booth studio for vintage black and white photos of your guests which they can take with them to remember the party. You can also provide your guests with accessories as heats or glasses to make photos more fun.
Invite rock or blues band to complete the scene.
Acrobat Theme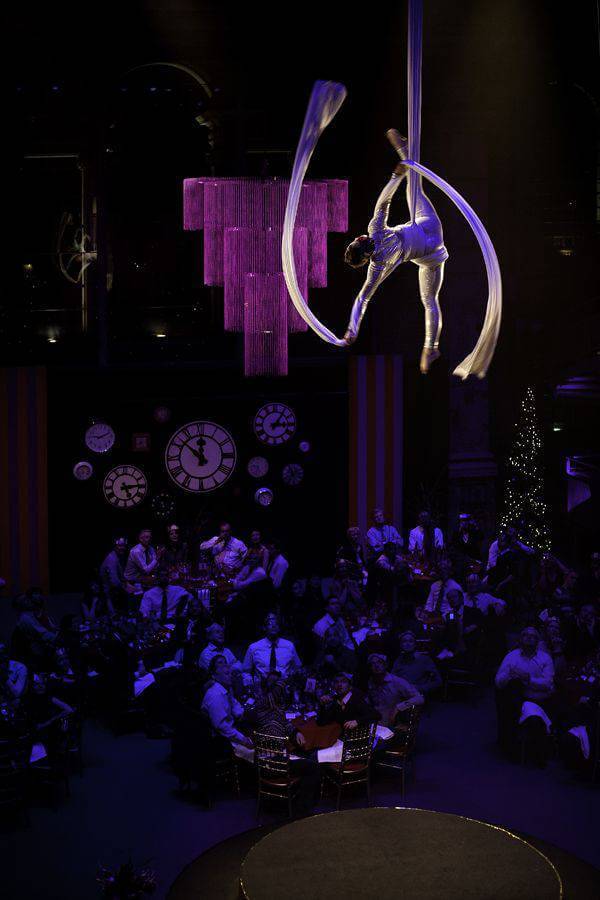 Add fun to a formal event by throwing a circus themed party. Hire professional aerial and wheel acrobats to create lasting memories and surprise your attendees. Decorate the venue with lots of balloons throughout the banquet hall.
The right way to start any big corporate party night is drinks reception. Welcome your guests with champagne or sparkling wine in glasses garnished with fresh strawberries. Champagne pyramid can make your extraordinary event even more spectacular and memorable.
One of the most critical issues that determines how much your guests enjoy a party is the food you serve. Set up a buffet table with such party canapés at your choice as beef & mozzarella meatballs, mini nicoise sandwiches, salmon & cucumber twists; antipasti, cheese and vegetables platters with dips to choose from. Mini cheesecakes, berry tartlets, mini chocolate & ginger brownies and peanut butter cups for dessert.
Let hosts and hostesses offer foods and drinks around the venue for your guests not to miss anything from a circus performance.
DJ Club Night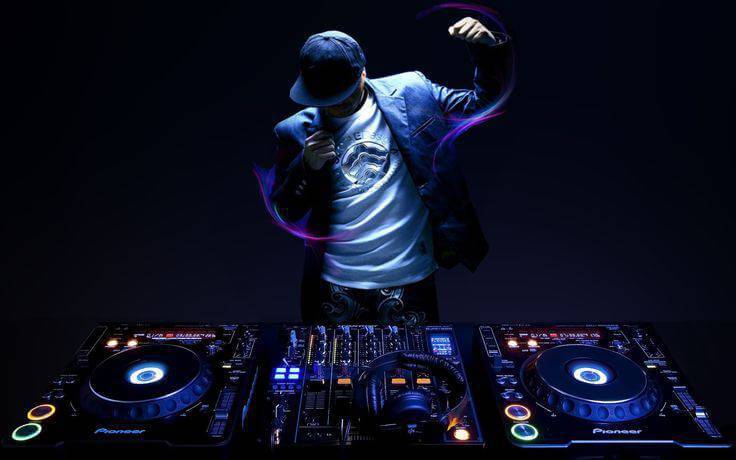 One more of ideas for corporate events and a great way to thank your employees or clients in case you plan your party as more like social gathering than a formal event. Incorporate dance club atmosphere into your party place. You can either plan your event in a dance club venue or hire professional DJ for a party in a banquet hall. DJs that provide such services offer professional equipment, live music, sound reinforcement and uplighting, which can even be coordinated to project the logo of your company and/or your corporate colors. Everything you need for quality entertainment with style. To make the party more interested for each of your guests, ask them to make a list of some of their favorite tracks and bands beforehand. So a DJ would be able to keep the crowd engaged and entertained including all the preferences.
Leaving enough room for a dancing area, set up a lounge zone with light-up cocktail tables and couches in such a way your guests would be able to socialize, relax and be a part of the party.
Hire a professional cocktail bartender with mobile bar to surprise your guests with cocktail or molecular mixology master class show. Be sure, this party favor will make your celebration a truly extraordinary corporate event.
Serve different finger foods and one-bite appetizers for your guest to be involved in the party while eating. Consider the following ideas when planning the party menu: mini shrimp rolls,  fried meatballs, mini zucchini cheese tarts, tuna rolls, mini grilled cheese sandwiches, crab stuffed mushroom, etc.
Your employees will walk away from your party with a feeling of real appreciation for all they do.
BBQ Corporate Party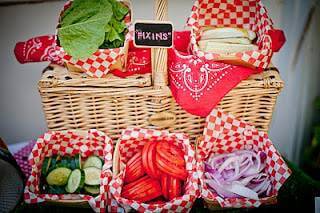 Barbecue party is one of the most favorite from all corporate event ideas as it reminds of family weekends with tasty grilled foods.
Choose the classic red and white gingham picnic tablecloths for your barbecue party, place food in baskets, write menus on wooden signs.
Serve up a delicious barbecue lunch for your hard-working employees. Have a sandwich bar with all sorts of ingredients for guests to choose from. Offer steaks with sesame burger buns with optional cheese, lettuce, tomato or red onion. Serve classic pork sausage, chicken and vegetable in foil, chicken wings, barbecued shrimp, antipasto skewers, veggie dip cups. There are several dessert options for your barbecue corporate event: strawberry cheesecake, lemon pie or chocolate cake, napoleon ice cream, waffle cone fruit cups, fresh watermelon and strawberries.
Let your guests refill their drinks by offering them iced tea, orange lemonade punch, fruit filled water and sangria in 3 gallon glass beverage dispensers.
Garden Party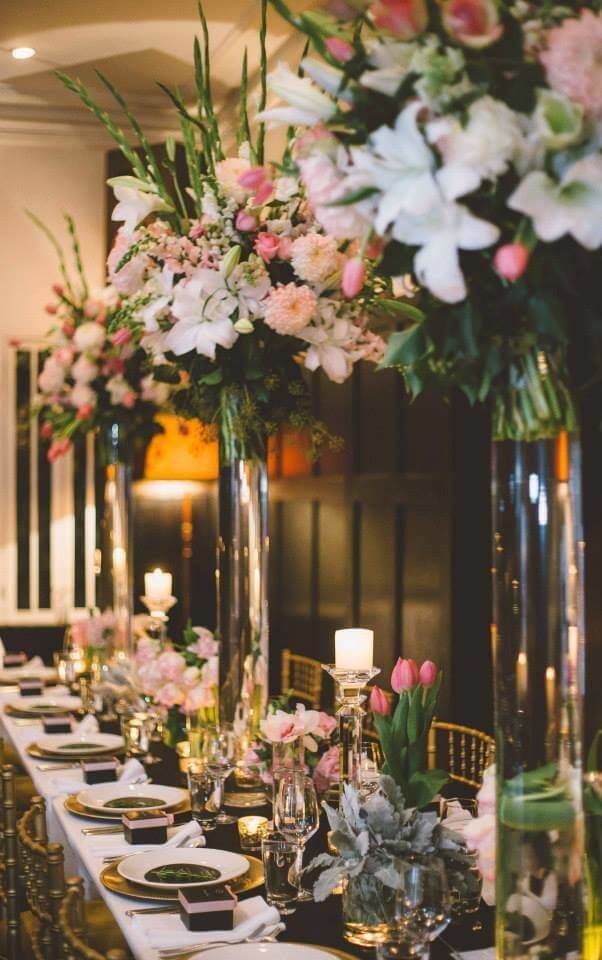 Outdoor venues are great for private parties and corporate events during the warm season of the year. Rent a beautiful venue for your elegant and glamorous garden party.
Place picnic tables with white tablecloths and benches. Decorate the tables with centerpieces of potted green plants, olive branches and floral arrangements that resemble miniature trees. Add bowls with floating candles and green plants around the venue. Create a romantic ambience hanging a variety of colored lights above the tables as a part of the event's look.
Colored water fountain would be a great favor for a garden party.
Organize catering for your event. Serve cheese platter with grapes, small sandwiches, spring rolls, chicken kebabs, tomato and herb salad, grilled corn, grilled vegetable lasagna, mini tomato pies, mushroom tarts, etc. Offer your guests such desserts as colorful flower blossom cupcakes, mini cheesecake jars, fruit trifle.
Consider the following when choosing drinks for your garden party: strawberry champagne martini, peach sangria, cucumber-ginger refreshing cocktail, coconut lemonade.
Luau Party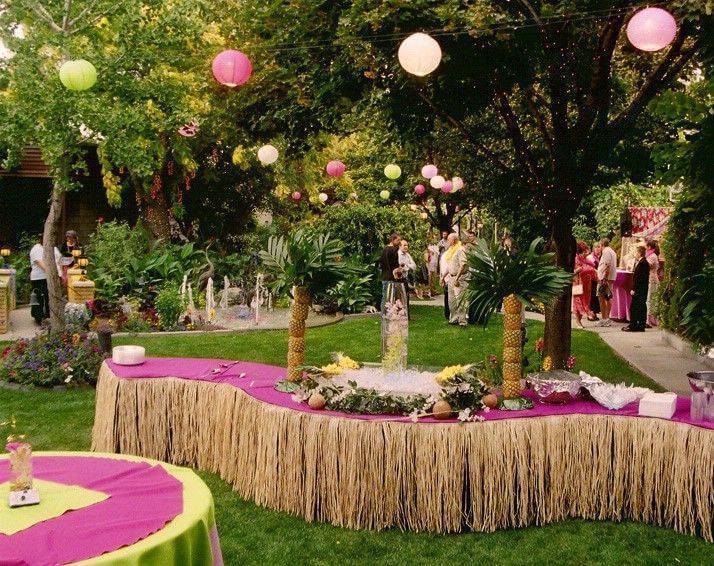 Bring a summer fun to your corporate event. Prepare interactive online invitations with graphics picturing Tiki statues and fire or message in a bottle. Make fun gift bags with such Luau items as leis, sunglasses, hair flowers, shell necklaces, etc. Present Luau party packs to your guests at the beginning of the evening.
Decoration options for Luau party are endless. Be sure you'll find what you need no matter what budget you have. If you plan your party outdoors, you can rent palm trees, order bamboo fencing. Use flower garland and lights for creating tropical atmosphere at your party place. Hang out leis, grass skirts and flowers. Place tropical flowers and candles in glass bowls and vases for making beautiful centerpieces for Luau dinner table.
Serve pineapple fried rice, pork ribs, chicken with chili sauce, grilled pineapple ham kabobs, mini Hawaiian pizzas, shrimp cocktail; such desserts as Piña Colada cupcakes, tropical fruit platter, coconut strawberries, flip-flop cookies. And such cocktails as Mai Tai, blue Hawaii cocktail, Piña Colada, pineapple Sangria.
Day Trip
For those who prefer active leisure, Company Day Trip would be the perfect from all corporate event ideas. A team getaway would be a great corporate solution and a unique opportunity to strengthen friendships among colleagues. Choose some tourists destination available in your area: ski weekend, camping excursions, amusement park, country venue, museum, mountains trip, etc.
Consider the following indoor and outdoor activities for your corporate day trip:
air rifle shooting
laser clay shooting
hovercraft driving
chocolate workshop
film making
ropes course
raft building
survival challenges
Please your guests or clients with a dinner in an elegant restaurant near the water or mountains. Or arrange company BBQ picnic.
Moroccan Party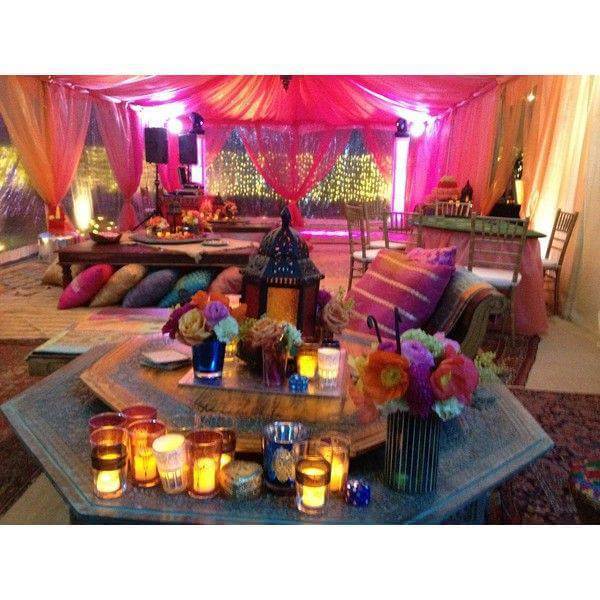 You can either rent Moroccan colorful tents or decorate a banquet hall or a patio area in Moroccan style. Use drapes and fabrics hanging them on the walls around the venue, suspending curtain rods from the ceiling, put carpets on the floor. Provide low seating with brocade cushions and tables. Set up a lounge area with tobacco hookahs of different flavors to choose from. Provide non nicotine herbal hookahs as well. Add lanterns and lamps to the interior to create a cozy atmosphere for your guests. Choose themed table top decor for your party: silver trays, plates, vases, tea glasses, etc.
There's a great choice of Middle Eastern food you can offer your colleagues: moroccan spiced potatoes, lamb cutlets or kebabs, coriander Moroccan chicken, couscous with chickpeas veggies and almonds, pita bites. Serve some desserts as pistachio cake, date truffles, honey and almond cigars, themed cupcakes and cookies. Offer Moroccan party drinks: anise and cinnamon cocktail, Moroccan mojitos, Moroccan mint tea with saffron sugar cubes.
Entertain your guests with snake charmers, belly dancing, fire-eaters or middle eastern musicians
Around the World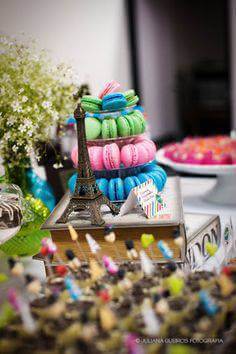 Take a trip around the world with your colleagues by throwing an international themed party.
Choose several countries which you will feature at your party, from European cities to Asian wonders, and follow the theme when decorating the venue and planning the menu.
Place a globe and put little flags on the countries you choose. Use tags with names of dishes you serve on each table.
For example, you can have several food stations:
Decorate the table with candles, red and white checkered tablecloth. First offer Cappuccino or iced coffee to your guests. Serve pizza, antipasto plate, caprese and crispy Italian breadsticks. And such desserts as Tiramisù and Panna Cotta.
Use silverware and plates on embroidered tablecloth of bright colors. Place candles on the table. Treat your guests with such traditional and most delicious Indian dishes as chicken masala, samosas, pani puri, pakora, and kulfi and gulab jamun for a dessert.
Hang colorful tissue-paper streamers and ribbon lanterns above the table. Put a vintage bright striped tablecloth, serve food on multi-colored stoneware dishes: tacos, chile-chicken enchiladas, elote, green or red salsa. Offer such drinks as Corona and classic Margaritas.
Decorate the station in black and red colors using hand fans, Japanese umbrellas with sakura patterns, bamboo table runners, plates, chopsticks and cups. Offer the variety of sushi, rolls, sashimi, tempura foods and serve traditional Japanese sake.
Lay white tablecloth and put fresh floral arrangement on the table. Serve soft and blue cheeses with bread on a wooden plate. Offer chicken fricassee, salade nicoise, chocolate soufflé, vanilla Crème Brûlée. Arrange wine tasting.