Your wedding is the most important day of your life. It's the moment, after all, that everything usually starts from. From you choosing to buy your first home to you choosing to start a family, everything starts by saying those two simple little words, "I do."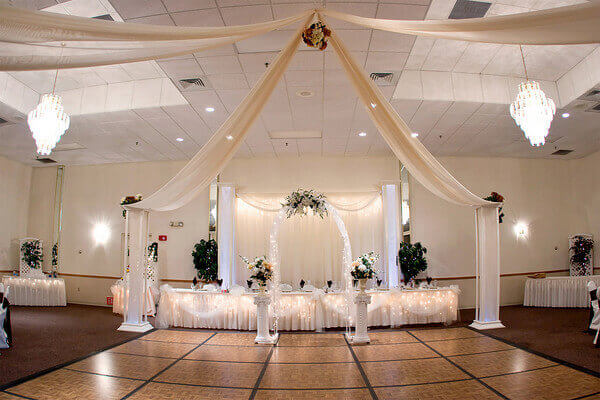 Because of how important the first day of the rest of your life is, it's of paramount importance for everything to be perfect. From your wedding event venue to the theme of your wedding reception, special care should be afforded to absolutely every detail. We know this because, at the National Event Venue, we help couples inject a real magic into their wedding receptions almost every week of the year.
The only question, of course, is when it comes to your wedding reception, how should you decorate an area such as a banquet hall in order to really exemplify your overall wedding theme?

Essential Banquet Hall Decorating tip No.1: Use Drapes & Balloons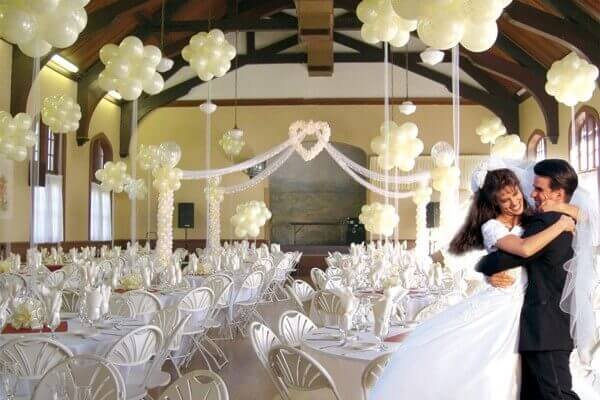 Decorating a banquet hall in anticipation of a wedding might sound easy. However, one thing which people often forget is just how expansive such spaces are. Of course, it's high seating capacities coupled with stage and dance floor space which makes a banquet hall the perfect place to stage a wedding reception in the first place. The only problem is that depending on the total number of guests attending a reception, a hall or any large space can sometimes feel a little too big.
Thankfully, it's incredibility easy to make spaces feel fuller and more intimate. The trick is to use drapes to hang from ceilings, viewing galleries and stage items. Meanwhile, balloon sculptures such as pillars, arches, and stage items are a fantastic way to really tie a reception area together finally. Just remember not to simply scatter such devices. Rather, if in doubt, seek help from the likes of professional balloon sculptors and wedding planners.
Essential Hall Decorating tip No.2: Add Amazing Props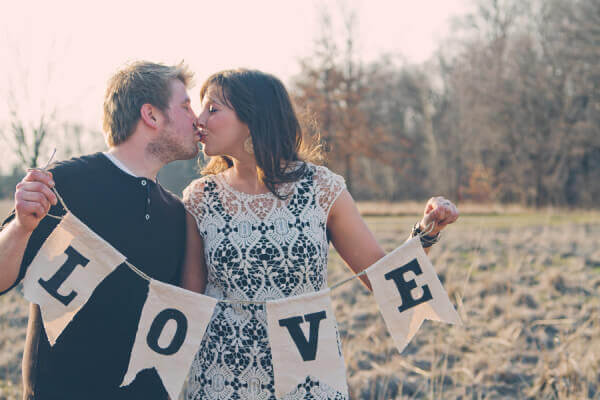 The key to making your wedding reception as magical as possible is to make it as much about you as possible. This being the case, when it comes to wedding reception decor, don't just stop at incredible floral displays, tableware and hessian bunting. Instead, make sure also to include props which reflect you and your loved one's personality.
Stuck for ideas? Don't be. Even simple installations like family photo walls can make a fantastic addition to places like guestbook signing areas. In like regard, if you have a lot of single friends attending your reception, why not think about adding a tongue in cheek escort board?
Of course, you don't need to make your wedding reception props exclusively about you. However, it is always a good idea to think about adding niche and exciting decorative devices such as miniature hot air balloons, as well as just traditional banners and flowers to your reception.
Essential Wedding Reception Decor tip No.3: Focus on all the Small Details
It's easy to get into the habit of always thinking big when it comes to weddings. We want the big church, the big banquet hall, the big cake etc. However, truly memorable wedding themes are actually made all the more magical when people also take into account all the small details.
From calligraphed menus to table scatters and wedding favors, small details stand out just as much as bigger ones. This being the case, think about incorporating things like uniquely presented table numbers, sprigs of scented herbs, and chalkboard signage, in order to create a truly inspirational wedding theme.
Wedding Banquet Hall Decor tip No.4: Add a Photo Backdrop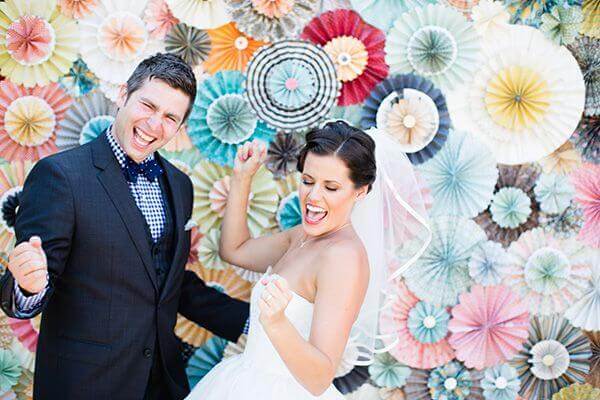 When it comes to weddings, photos play a huge part in helping you preserve the magic and atmosphere of your big day for years to come. However, you shouldn't ever just rely on your wedding photographer to create your future family and wedding album. Rather, by adding a photo backdrop your reception venue, you and your guests can snap your very own wedding photos. Even better, if you are adding a photo backdrop, make sure also to include a selection of props in order to add a spark of fun and perhaps even mischief into this area.
Essential Wedding & Banquet Hall Decorative tip No.5 Always add Table Centerpieces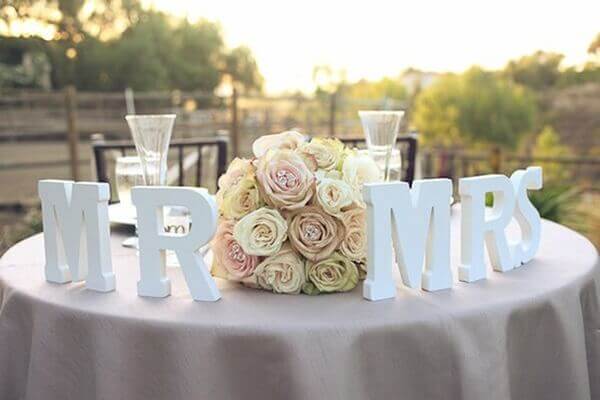 As strange as it might sound, the bride and groom aren't always the most important people in the room at a wedding reception. The overall atmosphere and ambiance of your wedding reception, after all, will always depend almost entirely on your guest's overall sense of enjoyment. This being the case, adorn every table at your reception with beautiful lamps, illuminated centerpieces, and/or incredible floral arrangements.
At the same time, remember that while you might already be familiar with the layout of your venue, your wedding guests won't be. In this case, always think about adding a small note to each table informing your guests in regard to where to find everything from the w/c to the hall bar area.
Why the National Even Venue is the No.1 Choice for your Wedding Reception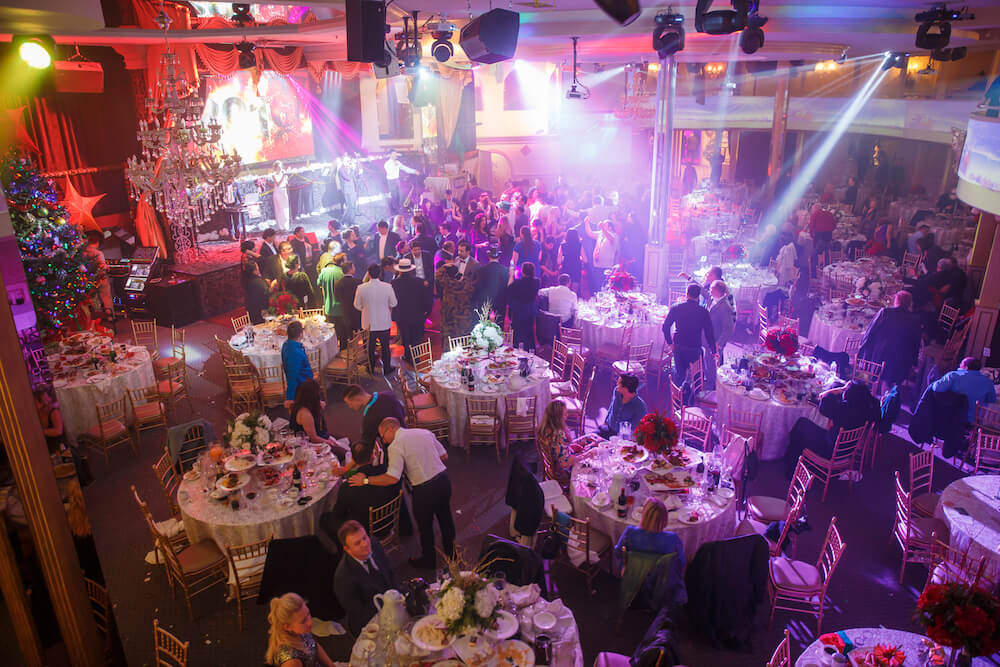 As one of the Toronto areas most ornate and multi-purpose event venues, the National is proud to be able to host some of Canada's most magical wedding receptions. Our state of the art facilities, easily adaptable decor, and incredible caterers mean that we are the first choice for many newlyweds when planning their big day. The only problem, of course, is that with there only being 365 days in the year, you will need to book early in order to guarantee our availability. In this case, if you are looking for somewhere iconic to host your upcoming wedding reception, make sure to reach out to us today in order to inquire further.